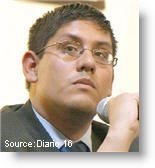 A Peruvian court has annulled a sentence against blogger Jose Alejandro Godoy, who was sentenced in 2010 to three years in prison for defamation, daily La Republica reported.
In 2009, Jorge Mufarech —a former minister of Labor during the Fujimori government and later Congressman for Peru Posible— filed charges against Godoy for a post published on his blog "Desde el Tercer Piso" (From the Third Floor) about threats made by the ex-lawmaker against Julio Arzibu Gonzales, an adviser to Peru's Nationalist Party (PNP).
In the post, Godoy provides links to various documents, including a letter from Arzibu to PNP Congressman Fredy Otarola outlining the threats.
Mufarech, who at different times filed complaints against other journalists, former minister of Interior Fernando Rospigliosi and against El Comercio daily and its publisher Francisco Miró-Quesada, had sent a letter to Godoy demanding the post be taken down.  In November last year, days after Susana Villaran was elected mayor of Lima, Mufarech asked that Villaran be charged and sentence for libel because of an op-ed article she had written earlier in the year criticizing the political injustice against Rospigliosi which she believed was led by Mufarech and the APRA party.
In addition to the three-year sentence, Gordoy was ordered in the original sentence to 120 days of social work and ordered to pay a fine of 350,000 soles ($125,580).
Under Peruvian law, sentences of three years or less do not require serving time in prison.