President Ollanta Humala lashed out yesterday at Greenpeace, saying that their recent stunt at the Nazca Lines to raise awareness for clean energy showed a "lack of respect."
"We have been able to appreciate two messages, one explicit but there was another bigger implicit one," Humala said, according to daily El Comercio. "The lack of respect for our cultural heritage and Peruvian laws."
Kumi Naidoo, Greenpeace's executive director, arrived in Lima late Thursday, to offer his apologies for the organizations Nazca Lines action, and is scheduled to meet officials at the Ministryof Culture on Friday afternoon. He said the organization would face the consequences of its actions.
Greenpeace activists from a number of countries sneaked into the area of the famous Nazca Lines in southern Peru, and worked through the night to set up a massive banner that read in yellow letters: "Time for Change! The Future is Renewable. Greenpeace."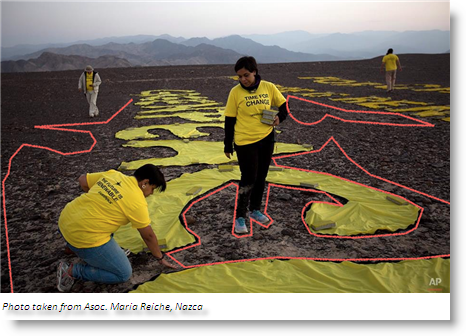 The banner was located only a few meters from one of the most famous Nazca drawings, the hummingbird. The Culture Ministry said the stunt caused irreparable damage in the fragile area near the hummingbird.
The activisits performed a similar action at Machu Picchu, hanging banners from the agricultural terraces early in the morning, but no damage was done to the site.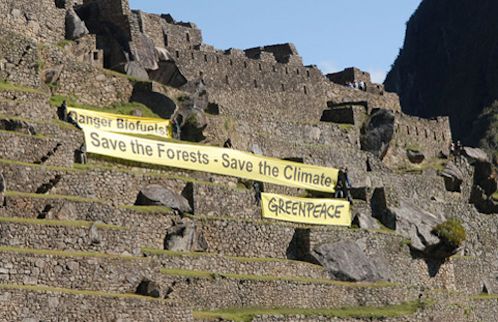 Officials at the Culture Ministry filed charges against the activists, who came from Chile, Argentina, Spain and other countries to make their statements during the United Nations climate change talks, COP 20. A prosecutor has also tried to prevent them from leaving the country.
The backlash has caught Greenpeace off guard, since it intended the message to be one of "hope." Instead, many Peruvians are expressing similar points of view to that of President Humala.
"We fully understand that this looks bad. Rather than relay an urgent message of hope and possibility to the leaders gathering at the Lima UN climate talks, we came across as careless and crass," said Naidoo, of South Africa.
"We take personal responsibility for these actions, and are willing to face the consequences," he added. "We are deeply sorry for this."