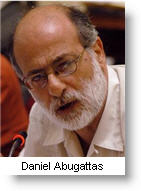 Presidential candidate Ollanta Humala plans to present a new government plan by the end of this week, spokesperson for the party and re-elected Congressman Daniel Abugattas has announced.
"We are shelving the [original] government plan, which has valid proposals but in the current situation will be left to one side," daily El Comercio reported Abugattas as saying.  The party's government planning team, led by economists Feliz Jimenez and Kurt Burneo, are fleshing out the national guidelines accord signed by Humala last week.
Abugattas, citing the need for a broader consensus after the April 10 elections, said the new plan will leave out some of the more controversial proposals in the original plan, which has come under fire recently by opponents and analysts.
Among the changes, Humala will no longer propose a constituent assembly to modify the constitution, Abugattas said, adding that any amendments they seek to make will have to be made through the parliamentary process.  
Although Gana Peru has 46 members in the new Congress, followed by 38 members in Keiko Fujimori's Fuerza 2011, it will need to seek consensus for any changes since it will require at least 90 votes of the 130-member house.
 Since winning the first round vote with 31.7 percent support –against Keiko Fujimori's 23.5 percent—Humala has been working to convince the electorate that his government would maintain economic and political stability in Peru. He has sought, and received, backing from close to 100 leading intellectuals and economists in the country, many of whom are helping to adjust his plan for a broader electorate.
However, critics have pointed to contradictions in his original, almost 200-page government plan that outlines Humala's intentions for a bigger role for government in the economy. Critics are concerned his election would lead Peru down a similar path as Venezuela under President Hugo Chavez.