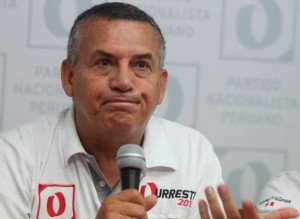 Peru's ruling Nationalist Party has decided to not run a presidential candidate this year, surprising the flamboyant ex-interior minister who was supposed to be on the ballot.
The party's National Executive Committee, which includes President Ollanta Humala and First Lady Nadine Heredia, decided to withdraw its candidate, Daniel Urresti, a former interior minister in Humala's cabinet. The term for Humala, who founded the party with his wife, ends in July. He is constitutionally-barred from running for re-election.
According to daily El Comercio, the Nationalist Party told the Special Electoral Jury, or JEE, that it withdrew its candidate and its parliamentary list due to the "absence of the principal of electoral certainty."
It said that recent actions by the JEE and the National Electoral Jury, or JNE, "negatively affected the process for the general election." This week, the JNE barred two presidential candidates from participating in the vote.
One of the candidates was Julio Guzman, an economist and technocrat who was in second place in the polls. His exclusion has been criticized by analysts because it was based on a technicality.
Urresti, who is way back in the polls, said prior to the decision that he had no plans to end his campaign.
"I will continue, I won't give up," he said. "If the party, by the wish of six congressmen or people that integrate the National Executive Committee decides to withdraw the candidacy, let it be clear that I won't participate in the withdraw."