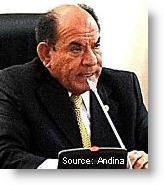 Peru's government plans to eradicate 14,000 hectares of illicit coca crops this year, Interior Minister Daniel Lozada has announced, according to state news agency Andina.
The figure would represent a 40 percent increase from 2011, Lozada said during a presentation to the Congressional defense committee.
"We ended last year with 10,269 hectares eradicated, which was above our goal and for this year we are planning to eradicate 14,000 hectares," Lozada said.
The United States has been the main financial backer of Peru's anti-drug policies, which have focused on eradicating the coca leaf, the raw material used to produce cocaine.
In August, President Ollanta Humala appointed Ricardo Soberon to lead the government's anti-drug agency, Devida.  With only five months in office, Soberon, a lawyer and expert in the illegal drug trade, resigned this week and was replaced by psychologist Carmen Masias, former deputy head of  Cedro, the agency for prevention and rehabilitation of drug abuse.
Soberon's appointment was strongly criticized by some for his past ties with coca growers, and concerns that he could minimize coca eradication.
Soberon's defenders, however, said he was one of the better informed specialists in the complexities of coca production and the illegal drug trade and that his legitimacy with coca growing groups would help create a successful anti-drug plan.
While the U.S. is expected to continue to be a significant supporter of Peru's drugs policy, Lozada said Thursday that Peru will soon sign an agreement with the European Union for anti-drug support.
Equipment and weapons for the VRAE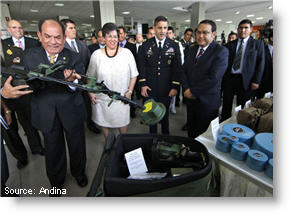 On Thursday, U.S. Ambassador Rose Likins officially ratified the U.S. support with the delivery of a donation of $2.3 million worth of equipment and materiel to be used by the police and armed forces for eradication and interdiction of coca crops and combat against the drug trade and narcoterrorism. 
The donation, given by the US Department of Defense, includes fire arms, medical supplies for combat, explosives detection and deactivation equipment, search and rescue equipment, and equipment for maritime interdiction.  Specific training is also included for the units that will receive and use the equipment.
"We wish to continue contributing to the strengthening of skills" in combating the drug trade in the VRAE, the Upper Huallaga and at sea, Likins said.
Likins also praised the appointment of Carmen Masias to head Devida, and said the U.S. was looking forward to working with her.
Most of the cocaine from Peru, which is considered by some to be the world's biggest producer of the drug, goes to Europe, while Colombian cocaine is mainly destined for the United States.