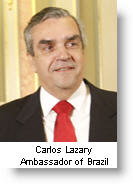 Peru's president of Congress and important backer of President Ollanta Humala, legislator Daniel Abugattas, met on Wednesday with Brazil's Ambassador in Lima, Carlos Lazary.
Following the meeting, Lazary said Brazil is interested in exchanging experiences with Peru on governance, parliament and strengthening democracy, state news agency Andina reported.
"This meeting is important to strengthen the friendships and cooperation between both countries," Lazary said.  The ambassador also said there are plans for visits between authorities in the two countries to discuss development issues.
Brazil, South America's biggest economy, is playing an increasingly larger political role in the region.
During the presidential campaign, Humala, who brought in Brazilian advisors, looked to strengthen ties with Peru's eastern neighbor. He promised to govern Peru by emulating Brazilian ex-President Luis Ignacio Lula da Silva, rather than Venezuelan firebrand Hugo Chavez.
After Humala was elected, his first visit abroad was to Brazil's President Dilma Rousseff.