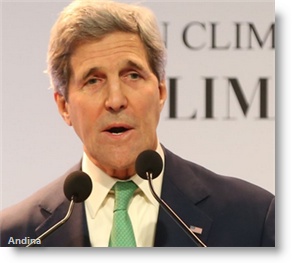 United States Secretary of State John Kerry gave an impassioned speech at the United Nations climate talks that wrap up in Lima on Friday, urging all countries – big and small – to tackle climate change.
In his speech at the venue, Kerry addressed one of the main divides between developed nations and developing nations over climate change.
As rich, industrialized nations like the U.S. and European countries are the main source of global emissions, many developing nations say they should be responsible for curbing the crisis rather than hurting the economies of emerging countries in Latin America, Africa and Asia.
That point of view was summed up by Venezuela's Foreign Minister Rafael Ramirez, who said in his own speech that his government wouldn't accept taxes on the oil sector in order to reduce fossil fuels. He said, essentially, that the U.S. and other countries made this mess, so you take on the costs.
Not so fast, Kerry said. While the secretary of state highlighted the historic legacy of developed nations to the crisis, he pointed out that fast-growing, developing nations are responsible for over half of global emissions today.
"President Obama and I understand the way countries feel, particularly about the major emitters. We get it," he said. "The United States and other industrial nations have contributed significantly to this problem – before, I might add, we fully understood the consequences. And we recognize the responsibility we have now to lead the global response."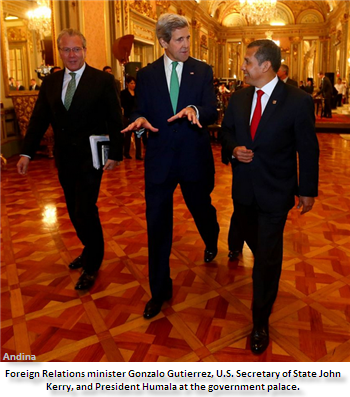 "And yes, if you're a big, developed nation and you're not helping to lead, then you are part of the problem," he added.
"But that doesn't mean," Kerry added, "that other nations are just free to go off and repeat the mistakes of the past."
"No single country, not even the United States, can solve this problem or foot this bill alone," he said. "That's not rhetoric. It is literally impossible."
Kerry said that climate change, measured against global threats like terrorism, epidemics, poverty and nuclear proliferation, "absolutely ranks up there equal with all of them."
"Future generations will judge our effort not just as a policy failure, but as a massive, collective moral failure of historic consequence, particularly if we're just bogged down in abstract debates," he said.
"We have to come together around an ambitious climate agreement between now and the end of next year."
Delegates and teams from nearly 200 countries have been meeting in Lima for the past two weeks, to hammer out the draft of a legally binding and universal agreement the United Nations hopes will be signed a year from now in Paris, during the 21st summit of the United Nations Framework Convention on Climate Change and 17 years since the Kyoto Protocol was signed in 1997.