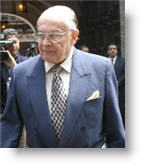 A summit of the Union of South American Nations, Unasur, planned in Lima this month will be a good opportunity for incoming President Ollanta Humala to launch regional integration efforts, said Javier Arias Stella, a former Peruvian ambassador to the UN and minister of Foreign Affairs during the Belaunde administration (1980-83).
Humala, elected in the run-off June 5, is to take office July 28. Since winning the second round vote, the president-elect has traveled through South America meeting with his future counterparts in order to build relations.
In addition, Humala recently returned from a trip to the U.S. where he met with President Barack Obama and Secretary of State Hilary Clinton, and senior members of the administration.
"The sense of [Humala's] message has been integration," state news agency Andina reported Arias Stella as saying. "He began by doing a tour to the neighboring countries showing his interest in strengthening the relationships with them."
The 12-nation summit was originally to be held July 5 in Venezuela but was cancelled due to recent health problems of that country's president, Hugo Chavez. The summit in Lima is scheduled for the same day as Humala's inauguration.
Unasur is currently working on the approval of a protocol on peace, security and cooperation as well as policies on protecting the region's biodiversity.