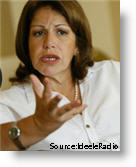 Former presidential candidate Lourdes Flores said that new legislation presented to Congress by Peru's government, which would establish prison sentences for individuals who negate or downplay terrorism actions, would likely not be efficient.
Flores, former president of the center-right Popular Christian Party, said during an interview with Ideeleradio that if approved, the legislation could also curtail freedom of speech.
"I don't think that this law would be an efficient instrument," said Flores. "It seems to me that as it is proposed, the law is a restriction on freedom of expression."
The bill was sent to Congress in August. It seeks to amend the criminal code by giving prison sentences to people who "publicly approve, justify, deny or minimize terrorist crimes."
If approved, individuals could face four years to eight years in prison if they minimize the violence perpetrated by leftist-rebel groups, local media has reported. 
The legislation is intended to curtail what some analysts say is growing support for political movements linked to Shining Path rebels.
An organization known as Movadef, which includes many former Shining Path members and supporters, has been recruiting thousands of young students as well as participating in anti-mining protests and working within the national teachers union, Sutep.  
Movadef, which has been barred from registering as a political party and participating in elections, denies that the Shining Path committed assassinations and says the deaths were collateral damage in a people's war.
President Ollanta Humala Wednesday said that the law is necessary to prevent Movadef and other pro-Shining Path groups from expanding.
Flores joins an increasing number of critics from across the political spectrum. Sociologist and historian Nelson Manrique has said that if such a law were to be enacted, it should also include prison sentences for people who negate or minimize crimes committed by law enforcement agents during the terrorism years.