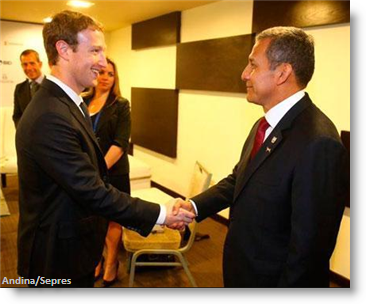 Shortly after arriving in Panama for the VII Summit of the Americas in Panama, President Ollanta Humala met with Facebook creator Mark Zuckerberg.
Humala and Zuckerberg met for about 30 minutes in Panama City, where they discussed a Facebook initiative to provide free Internet access to low-income residents in Latin America and other parts of the world, according to daily El Comercio.
The newspaper said that Humala invited Zuckerberg to visit Peru, which he accepted.
Earlier this year, the 30-year-old billionaire and CEO of Facebook traveled to Colombia where he launched the Internet.org application, allowing residents to access a certain number of websites on their cellphones.
Colombia was the fourth country to receive the program, which has also been rolled out in Zambia, Kenya and Tanzania, according to a report by Fox News Latino. The report said that Zuckerberg hopes the program will provideInternet access to two-thirds of the world's population that currently lack access.
From Thursday through to the weekend, Humala joined 35 other heads of state at the Summit of the Americas, including US President Barack Obama and Cuban President Raul Castro.