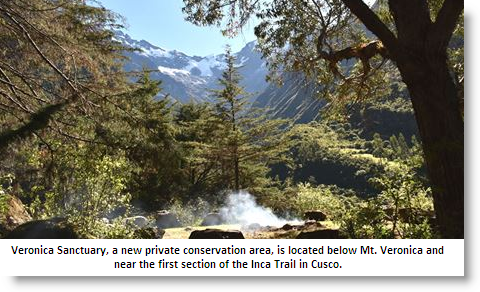 A new private conservation area has been created near Ollantaytambo in Cusco, along the Vilanota River and in the shadow of the 5000 m (17,000 ft) Mt. Wakaywillka or Mt. Veronica.
The Santuario de la Veronica is popular with campers and trekkers and is close to entrance to the Inca Trail. It covers an area of 20,793 hectares that includes a relict forest of Andean valley trees, including the species unca (Mycianthes oreophyla), aliso (Alnus acuminata) and chachacomo (Scallonia resinosa). Wildlife also includes 130 types of plants and a variety of mammals.
The private conservation rights have been granted to Miguel Bellota, a mystical tourism guide who has been developing retreats and tourism in the sanctuary since 2012.   The concession is for 20 years, and one of the main objectives is to protect the mixed forest, once ubiquitous in the area. The concession requires a five-year master plan that is to include research programs.