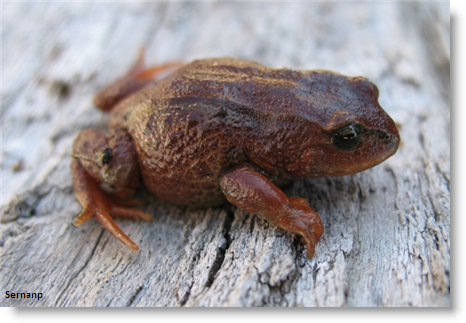 A new frog species has been recorded by scientists in the Megantoni Sanctuary, on the edge of the Manu National Park.
The land frog belongs to the Bryophryne genus, and was found during a routine biological survey by national park service guards and scientists from the natural history museum of the San Agustin University of Arequipa.
The scientists first reported the find to the scientific community in July this year.
The frog's features include olive green bumps as well as red and orange marks on its skin, it does not have a visible tympanum or hearing organ, and its feet are not webbed.
Its habitat, like that of the other eight Bryophryne species,  is the mossy montane cloud forest on the eastern slopes of the Andes, around 3,500 meters above sea level (some 11,500 ft).
Last month, the Executive issued a law through the Ministry of the Environment, D.S.010-2015-Minam,  to foster scientific investigation in protected natural areas, simplifying paperwork and permits to help researchers build up scientific information in the 76 protected areas in the country.