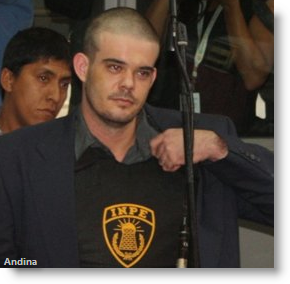 Joran van der Sloot, the Dutch citizen who is serving a jail sentence in Peru for a 2010 murder, plans to marry his Peruvian girlfriend in June, according to daily Peru.21.
The marriage could complicate efforts to eventually extradite Van der Sloot to the United States, to face charges on the case of Natalee Holloway, the US teenager who disappeared in Aruba in 2005.
The Peruvian municipality of Ancon, which is home to the Piedras Gordas prison where Van der Sloot is imprisoned, told the newspaper that it received the paperwork for the marriage request.
The report said that Van der Sloot, 27, and his Peruvian girlfriend, 22-year-old Leydi Figueroa, are expecting a baby.
If married, Van der Sloot could take his wife's Peruvian nationality, which would make it more difficult for him to be extradited to the U.S. His lawyer denied the marriage is part of a strategy to avoid extradition, pointing to cases where Peruvians have been sent to the U.S.
Van der Sloot pleaded guilty to the 2010 murder of Stephany Flores, a 21-year-old University of Lima business administration student whom he met at a casino in Lima's tourist Miraflores district. He is serving a 28-year-prison sentence for that murder.
The case caught international attention as Van der Sloot is also the prime suspect in the 2005 disappearance in Aruba of U.S. teenager Natalie Holloway, a case that was never solved by authorities because Holloway's body has never been found.
Peru's Supreme Court ruled that Van der Sloot can be extradited to the United States to face charges related to the Holloway case, but only after completing his 28-year-sentence in Peru for Flores' murder.