The Government is assigning an initial 800 million soles (approx. $240mn) to northern Peru, where torrential rains continue to cause heavy damage to homes, farmland and overall infrastructure.
Cabinet chief Fernando Zavala made the announcement following an emergency cabinet meeting in Piura and visits to key facilities in the area by the ministers of Health, Production, Education, Housing, Transport and Agriculture.
President Kuczynski was in Piura on Sunday to inspect some of the affected areas.
Emergency measures include the reconstruction of 21 bridges in Piura and Tumbes, family housing, support to small farmers whose crops have been destroyed, repairs in 500 schools, and the installation of two campaign hospitals.  Zavala said that 120 pumps were in use to pump water out of homes and buildings in urban areas.
The Ministry of Defense is also involved, in rescue operations and providing transport for the different projects.
One member of the cabinet will be assigned specifically to oversee the reconstruction operations in northern Peru, Zavala said.
Local governments are also being given extra funds to rebuild roads. Floods have washed away whole sections of the road system — most of the 50 km road between Piura and Sechura, usually a desert plain, has crumbled or is under water, while army helicopters are being used to evacuate whole villages along the Motupe River in Lambayeque.  Chiclayo is similarly affected, and on the weekend reported 11 hours of continuous rainfall.
According to Piura's regional governor, Reynaldo Hilbck, losses in agriculture and basic infrastructure in his region come to more than S/.400 mn, with more than 3,000 families losing their homes.
Earlier, S/.400 mn has begun to be disbursed in other regions of the country also affected by the heavy rains. More funds are expected to be assigned to specific reconstruction projects.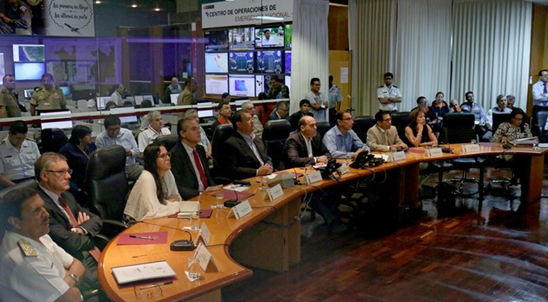 The north coast of Tumbes, Piura and Lambayeque have been hardest hit by the unusually heavy rainfall this summer, but the rains have affected 11 regions across the country, including in the highlands of Cajamarca, Ancash and Ayacucho.  In Arequipa, a flash flood and landslide cut off power to 500,000 people in the city.  Lima's coastal valleys have also been affected by rising river levels from rains in the highlands, and the Central Highway connecting the capital to the central Andean commercial hub has been closed by landslides more frequently this year.
The rains throughout the country are expected to continue at least until the end of March, according to Nelson Quispe, deputy director of weather forecasts at the national weather bureau, Senamhi.