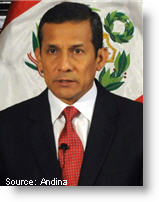 Business confidence in Peru will be key to maintaining economic growth, President Ollanta Humala said in an interview with a Mexican newspaper.
Humala's comments follow a recent slip in business confidence in Peru, according to the Central Bank. It also comes after the government faced stiff criticism from business leaders for plans to buy a stake in the local assets of Spanish oil company Repsol, namely a refinery and fuel stations. Humala backed down from that plan after business leaders said they had lost confidence in the government. They were concerned that the purchase would lead to greater state intervention in the economy.
"I think one of the important topics [for economic growth] is the generation of confidence," Humala said in comments reported by daily Gestion. "It's a concept a little bit like air: When you have it you don't feel like you're missing it, but if you start missing a little then you are driven to despair."
Humala also said it is key to maintain "macroeconomic stability."
According to the Central Bank, business confidence in Peru fell five points in April compared to the previous month, but it still remains in the "optimistic section."
The Central Bank also noted that consumer confidence declined five points in April.
Many local economists expect Peru's economy to grow above 6 percent this year, which would be similar to 2012 growth of 6.3 percent.
However, some international economists have warned recently about a slowdown in Peru, largely due to the sharp drop in metal prices. The impact of the lower metal prices has been felt in Peru, which posted a trade deficit in the first quarter. The deficit, which was due to a sharp decline in export prices, was the first quarterly deficit in more than four years.