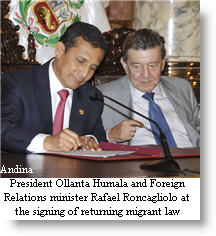 President Ollanta Humala on Wednesday signed a law that aims to support Peruvians living abroad who wish to return to the South American nation.
The Law of Economic and Social Reintegration for the Returned Migrant provides incentives for Peruvians to return to the country. The government hopes this will help create productive employment, state news agency Andina reported.
For decades, young Peruvians, both unskilled and professionals, have left in search of better opportunities in developed countries such as the United States and Spain. Most of those abroad have sent back remittances to support family members or invest in real estate for their own future in Peru.
Remittances are an important part of Peru's economy and amounted to US$2.1 billion between January and September 2012, 6 percent more than in the same period in 2011, despite the economic crises in other hemispheres. The main sources of these remittances —sent through banks and transfer institutions— are the United States, as well as Chile, Argentina, Italy and Japan, all of which showed an increase in the past year.
However, in recent years, a return to political stability in Peru coupled with a booming economy has led to more local opportunities. At the same time, the financial crises in the United States and Europe have led to high rates of unemployment and more risks, prompting many Peruvians to return  or at least consider the possibility of doing so.
Between 2006 and 2009, some 125,000 Peruvians returned to the Andean nation, while from 2009 to 2011 more than 250,000 Peruvians living abroad, President Humala said.
"Over the past few years we've seen a phenomenon of Peruvian men and women who have been in other countries for decades, now begin to return to the country," Humala said during a televised ceremony. "The trend is on the increase," Humala said.
The President said that previous laws provided only limited benefits, or made it difficult for Peruvians to return, including slapping taxes on importing their goods. "They (the laws) were very restrictive," he said. "We've decided to change this situation."
While many Peruvians are beginning to come home, Peru's annual economic growth of more than 6% in recent years has also attracted many foreigners to the country.
In 2012, more than 41,000 foreigners came to Peru for work, attracted by the country's booming economy, according to daily La Republica. This is up from almost 36,000 in 2011.
Most of the recently-arrived foreigners are from Spain, which has struggled with super-high unemployment rates, as well as from the United States, and regional countries such as Colombia, Brazil and Argentina.