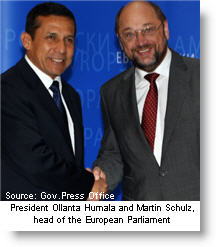 President Ollanta Humala said during a presentation at the European Parliament on Wednesday that the government seeks to maintain annual growth of 6 percent during his term, while strengthening democracy in the Andean nation.
"Our GDP tripled during the last decade, and is forecast to grow close to 6 percent for the next year," Humala said, according to state news agency Andina. "Our objective is to maintain this during the next five years," he told the assembly in Brussels.
Humala said the growth has allowed Peru to reduce its poverty rate from 54 percent in 2001 to approximately 27 percent in 2012.
He said that Peru's government aims to reduce poverty by another 7 percent to 20 percent by 2016, which would mean that more than 3 million people would escape poverty.
"We want to transform the economic growth to development and well-being, transform the wealth to quality of life," he said.
"My government wants to strengthen democracy and also favor the minorities, the marginalized and the forgotten by the State," Humala said.
Humala has spoken at the International Labour Organisation assembly in Geneva and also met for talks with the German Chancellor Angela Merkel in Berlin during his visit this week to Europe.