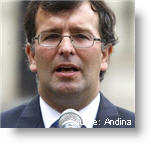 Peru and Guatemala have concluded negotiations for a free trade agreement, Foreign Trade minister Jose Luis Silva said Thursday.
The trade deal will allow for about 95 percent of Peru's exports to Guatemala to enter the country without tariffs within the next five years, Silva said in a statement from the ministry. More than 81 percent of Guatemalan exports to Peru will also be included in the pact.
Products that are sensitive for Guatemala's market, such as coffee, vegetable oils and tomatoes, are excluded from the FTA, the statement said.
"This FTA, as well as those reached with Panama and Costa Rica, is an important achievement to consolidate the access of Peruvian products to the Central American market," said Silva.
Peru has numerous free trade deals, including bilateral agreements with the United States, China, the European Union and Canada.
President Ollanta Humala, who took office on July 28, was critical of some of Peru's current trade accords during his campaign, saying that he would respect all signed accords but that some points should be revised. However, since taking office he has not announced any revisions.