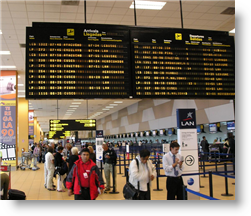 The government in Lima has hired air traffic control personnel from abroad as part of a contingency plan to reduce the impact of a strike by the country's air traffic control employees, state news agency Andina reported.
The air traffic controllers union said it was going on strike for 72 hours over demands for higher pay.
On Tuesday, the Ministry of Transport and Communication activated its contingency plan to mitigate the impact of the strike, ensuring that flights to and from the Andean country will continue.
Part of the plan includes hiring personnel from abroad, said Ramon Gamarra, the ministry's director general of civil aeronautics. The replacement air traffic controllers are in Lima, he said.
The Air Force will also assist in covering other vital services. "We want to have the least impact possible for the users," said Gamarra.
Air traffic controllers in Peru go on strike periodically to demand higher salaries and more benefits. Normally, the strike doesn't impact flights.