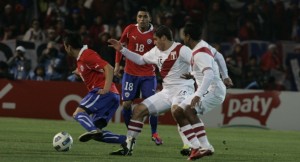 Peru is set to play Colombia in the quarter finals of the Copa America after a third place finish in its group following a defeat to Chile on Tuesday night.
The game is scheduled for Saturday, June 16 in the Argentine city of Cordoba, state news agency Andina reported.
Peru finished the qualification round with four points, behind Chile (seven points) and Uruguay (five points). Mexico, which was also in Group C, was eliminated from the tournament with zero points.
Chile clinched the first place in the group Tuesday thanks to an own goal by Peruvian midfielder Andre Carrillo.
Peruvan midfielder Antonio Gonzalez complained about the decisions of Brazilian referee Salvio Fagundes during the match. "The referee got carried away and complicated things for us," he said. "At the end of the game, his decisions were regrettable."
Also in the quarter finals, Argentina will play Uruguay and Chile will go up against Venezuela. In addition, Brazil will play Paraguay.