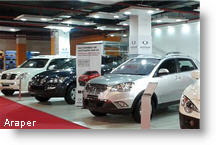 Peru's new vehicle sales rose 28% in the January to November period, showing increased spending power from an emerging middle class, the country's automobile association, Araper, said.
According to Araper, new vehicle sales totaled 174,125 units in the 11 month period, compared to 136,048 sales in the same period last year, state news agency Andina reported.
Sixty-seven percent of the vehicles sold were light vehicles, which includes passenger cars and SUVs, Araper said.
The most popular new vehicles sold in Peru between January and November are Toyota, which represented 17 percent of all units sold, followed by Hundai at 14 percent, Kia with 9.9 percent and Chevrolet with 9.2 percent.
In November alone, new vehicle sales totaled 18,558 units, with 72 percent of those sales being light vehicles.
"The vehicle sales in November were the best monthly sales so far this year," said Araper. "We hope that December will also be a good month due to operations from the Motorshow 2012."  
The show, held at the Jockey Plaza shopping mall  the first week of December, included 50 different makes of vehicles, and 400 models, from vans and trucks to luxury vehicles including BMW, Mercedes Benz, Lexus, and the a number of the newer Chinese and Korean makes, including SsangYong,  Changhen, Haima and Dong Feng.