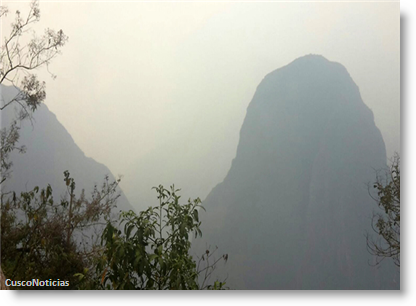 Forest fires this week set on Cusco hillsides and farmland at Collpani and also San Antonio de Torontoy, near Machu Picchu, covered the area in smoke and ashes that affected visibility at Aguas Calientes and the hilltop citadel.
Fernando Astete, head of the Machu Picchu archaeological park, said firefighters and park service personnel expected to put out the fires completely by Wednesday — one of the fires was in the historical sanctuary's buffer zone but the fire at Torontoy is a mere 16 km from Machu Picchu itself.
Many farmers still use fire to clear their fields before tilling the land again, and frequently the fires spread out of control.
According to the Cusco region's deputy manager for environmental management , Edwin Mansilla, firefighters have put out 150 fires so far this year. The most recent, prior to the fires near Machu Picchu, was in the opposite direction from Cusco, 118km south on the road to Puno at Kimsachata. Also lit by farmers, the fire spread behind the stone wall that surrounds the Raqchi archaeological site,  Mansilla said.