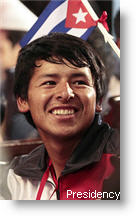 President Ollanta Humala held a ceremony on Monday to congratulate 174 students who have been given university scholarships to study in Cuba, France, Australia and Honduras.
The scholarships are the first being awarded for studies abroad in the government's Beca 18 program, created by the Ministry of Education to provide higher education opportunities within the government's focus on social inclusion.    An initial phase has already granted 5,000 full university scholarships to Peruvian technical colleges and universities.
One hundred of the foreign scholarship winners will be studying engineering in Cuba, at the Jose Antonio Echevarria Polytechnic in Havana, the Mining Metallurgical University in Moa, and at Oscar Lucero Moya University.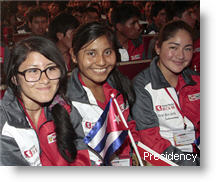 While 22 students will be attending Zamorano University in Honduras, another 13 will be studying for careers in technology and the sciences in France —these students will now take a seven-month language course at the Alliance Francaise in Lima before entering universities in September, most probably in Lille, Lyon and Bordeaux. 
The scholarship winners, many from the provinces, have been chosen for their academic excellence in the public education system.  In the case of the students going to France, of which only one is from Lima and the others are from Ayacucho, Cajamarca and other cities, they have also completed the first two years of public university in Peru and rank in the top third in their studies.
The 30 scholarships for Australia have been awarded for postgraduate studies (29 masters and one doctoral degree) in engineering, environment, biotechnology, and economics at several different universities.  
President Humala said the financial support of the scholarships will allow the students to dedicate their time fully to studying without the need of finding a job.  "Be generous in investing your time on yourselves, in studying languages, and making the most of this opportunity of access to a university classroom outside the country," he said, adding that economic growth is insufficient without growth in skills and new professionals.  
Education minister Patricia Salas announced that the second stage of Beca 18 includes 5,000 additional scholarships in Peru to technical colleges and universities.
There are also scholarships available to Germany, Spain, Mexico and Brazil for which applications will be open in the near future, Salas said, adding that the scholarship program is open to all students without distinction. 
"This investment of millions of soles in the program and in the skills of young Peruvian men and women, without distinction, is being made because the government believes that education is more profitable than mining or agroexports," Salas said.