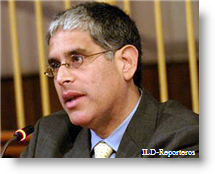 Three police generals, two colonels and one commander have been fired as Peru's government finds itself in the midst of a political controversy, following revelations that police were providing round-the-clock security to the home of a former political operative of Vladimiro Montesinos.
A report by journalist Cecilia Valenzuela on Willax TV this week said that Oscar Lopez Meneses was receiving security protection from police at his home in the residential district of Surco.
Interior Minister Wilfredo Pedraza immediately fired the six high-ranking police officers and promised to investigate where the order came from. He has also requested a hearing in Congress and has tendered his resignation.  The police chiefs headed the key Lima Region, Special Forces, the Tactical Unit, Emergency Division, and the bomb deactivation squad, Udex.
Lopez Meneses was a member of the inner circle of Montesinos in the 1990s, a close advisor often at his side. Montesinos, the notorious spy chief of jailed ex-President Alberto Fujimori, is currently serving a 25-year prison sentence for several crimes, including corruption and ordering death squad killings. In 2012, Lopez Meneses received a four year suspended prison sentence for corruption, the interception of telephone calls and illegal possession of arms.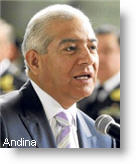 President Ollanta Humala lashed out at Lopez Meneses on Thursday while denying that his government has anything to do with him. "We are completely disconnected with that trash, with that criminal," Humala said. "We can't accept that they try to connect that trash with a government that is working on consolidating democracy, being transparent."
Humala said he supported Pedraza's "radical moves" in firing the high-ranking police officers. "We don't have anything to do with this. We reject and combat these type of people that look to infiltrate in the important institutions in the country, like the National Police."
It was later revealed that the order to provide Lopez Meneses police protection came during the tenure of Raul Salazar, the former director of the national police. Salazar resigned from office in March this year over concerns that he was failing to combat crime.
In a twist, Salazar said in a radio interview that the order to provide protection to that residence was made by the current head of Peru's Joint Command of the Armed Forces,  Admiral Jose Cueto.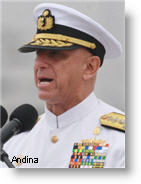 Cueto quickly denied that he made the request and said he himself has never lived in the property that has been under protection. Cueto said that only more recently did he make a request for police protection after he received death threats. However, that request was made with the current director of the national police,  Salazar's successor, he said. Cueto said the request was for his residence in San Borja.
"I'm outraged," Cueto said after hearing Salazar's accusations that he was responsible for the incident. "That guy has the gall to say so many open lies."
"This guy [Salazar] is a liar. I've never said anything to him at all. I've never asked him for security. He's crazy," Cueto added.
Montesinos is serving his 25-year prison sentence in the high security Naval base facilities in Callao, where Shining Path founder Abimael Guzman and MRTA founder Victor Polay are also serving their sentences.
In June 2007, Lopez Meneses was photographed at a private lunch with two military officers and one of the shadier leaders of the Apra party, Agustín Mantilla, who is currently on trial with five other Apra members for the death of five people in the late 1980s. In 2002, Mantilla was found guilty and sentenced to prison for receiving $30,000 from Vladimiro Montesinos during President Fujimori's administration. In September this year Mantilla admitted in court that the Comando Rodrigo Franco death squad did, in fact, exist during President Garcia's first administration but that he was not responsible for the assassination of Shining Path defense attorney Manuel Febres.  The state prosecutor is asking for 25-year sentences for the six men on trial.