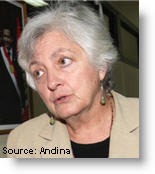 Peru's drug czar, who is to travel to Washington, aims to increase anti-drug funding from the United States for the Andean country.
Carmen Masias, the head of Peru's anti-drug agency Devida, said she will meet with U.S. lawmakers, the U.S. drug control director, Gil Kerlikowske, and directors at the international development agency, USAID, while in Washington.
Masias said she is optimistic that Peru will win over additional funding from the U.S. to curb cocaine production.
"It is posible that aid could increase. We have a shared vision with healthy differences," Masias said in comments reported by state news agency Andina. "I'm optimistic, the relationship with the U.S. has never been better."
U.S. drug control agents are pleased with Peru's current counter-drugs policy, which involves expanding forced eradication of illicit coca leaves and increasing the number of alternative development programs.
The U.S. has spent billions of dollars funding anti-drug programs in the Andean region, which is the source of all the world's cocaine.
However, the vast majority of that money has gone to Colombia, which until recently was the world's top cocaine producer and is still the main supplier (95%) of the drug to the U.S. market. While cocaine production has fallen in Colombia over the past decade, it has steadily increased in Peru, which is now tied with Colombia as the world's top cocaine producer.
U.S. anti-drug money to Peru currently totals about $28 million, which is a fraction of its overall investments in anti-drug funding in Latin America. Unlike Colombian cocaine, much of the Peruvian drug goes to Europe and increasingly Asia and other markets such as Brazil.