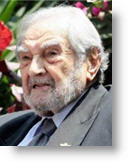 Armando Villanueva del Campo, the last of a generation of historical leaders in the Apra party and who was Peru's prime minister during one of the country's most troubling periods in the 20th century, died on Sunday. He was 97 years old.
Villanueva's death drew condolences from the current leaders of Apra, including two-time former President Alan Garcia, as well as political opponents who recognized his place in the country's politics during the past 80 years.
During Villanueva's early years, Peru was ruled by several military dictatorships that were broken up by the odd election and a few years of democracy. Later on, the country was led into a bloody conflict with Maoist-inspired insurgents that resulted in horrific human rights violations, while hyperinflation and corruption raged out of control. Only in recent years has Peru seen political stability and economic prosperity, a new development for a man like Villanueva who lived at the frontlines of Peru's turbulent politics in the 20th century.
"Villanueva del Campo has been one of the last leaders of a political party with deep popular roots that has marked the history of our country," said President Ollanta Humala.
"He has been an example in family life, he was a man who was an example for his friends and loyal to his principals," said Luis Bedoya, the founder of the center-right Popular Christian Party.
A hardliner and fiercely loyal to the Apra party, Villanueva was also a controversial figure who since his early days was an activist and involved in the Apra party's "attack squad" known as "búfalos."
Born in Lima in 1915, Villanueva became a member of Apra's youth movement when he was 15 years old. At the time, the leftist Apra party was led by Victor Raul Haya de la Torre who promoted economic nationalism and anti-imperialism in its quest to become a continent-wide party.
After years of exile in Mexico, Haya de la Torre returned to Peru in 1931 to run for president. The Apra leader lost that race to Luis Miguel Sanchez Cerro, an army officer who led a coup d'etat a year earlier that ousted long-time President Augusto Leguia.
Haya de la Torre and the Apristas believed that Sanchez Cerro's election was fraudulent. The party was banned by the new president and Haya de la Torre imprisoned. Apra rebelled against Sanchez Cerro, and many of the party's members were jailed, including Villanueva. Just 18-years-old at the time, Villanueva was put in the El Fronton prison, located on the smaller island off Lima's coast. Sanchez Cerro's government came to an end in 1933 when an Apra member assassinated him.
Like many other Apra members, Villanueva spent much of his later life in prisons or exile, including in Chile. Villanueva, who became a close friend of Haya de la Torre, was exiled to Chile in 1940 where he met his wife. He returned to Peru when Apra was still outlawed —it was outlawed for 21 years— and hid at a family house in Lima until party members were provided amnesty in 1961.
Many of his memoirs were told in "La Gran Persecución" which he wrote with journalist Guillermo Thorndike.
In the 1960s, he was an important leader of Apra's opposition to the government of Juan Velasco, a left-leaning general who ruled Peru from 1968 to 1975. In his later years, Haya de la Torre had overseen Apra's move to the political right, in large part to gain political recognition.
Villanueva became the leader of Apra in the late 1970s at a crucial point in the party's history. Its founding leader, Haya de la Torre, died in 1979 just before Peru returned to democratic elections. Villanueva ran for president in 1980 under the Apra ticket, but was defeated by Fernando Belaunde. Despite his defeat, Villanueva played a central role in ensuring the survival of Apra after Haya de la Torre's death and fostering the development of Apra's next leader: Alan Garcia.
Garcia, a young, tall and charismatic lawyer who was compared to John F. Kennedy, was elected president in 1985, bringing to reality Apra's long-held dream of obtaining power. Things didn't go as planned for Garcia, whose administration ended up being one of the most disastrous in Peruvian history.
Villanueva was elected to Peru's senate in 1985, becoming the chamber's president. In 1988, he was appointed prime minister by Garcia, whose government by that time was in a crisis. During the final years of Garcia's term, Peru was hit by out-of-control hyperinflation and a growing presence of the Shining Path rebels, which threatened to overturn the government and turn Peru into a communist state. Wide-spread corruption also mired Garcia's administration.
During Garcia's term, the El Fronton prison, where Villanueva spent years as a political activist, was used to hold Shining Path guerrillas. A year into his presidency, Garcia ordered the quelling of riots by Shining Path prisoners, and more than 100 inmates were killed at El Fronton in the battle that ensued with navy and police authorities. 
Villanueva was again elected to the senate in 1990, but he only held that position until 1992 when Garcia's successor, Alberto Fujimori, disbanded Congress and the Senate.
Apra returned to power in 2006 with the election of Garcia for a second term. Even though Villanueva retired in 2005, he continued to play an important role as a patriarch  in the party.
The news of Villanueva's death was announced by Garcia on his Twitter account. "Armando Villanueva, our brother, has died," said Garcia. "Long live Armando Villanueva. Long live Apra. Long live Peru."