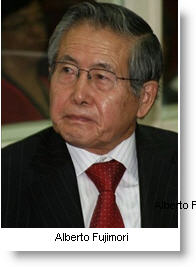 Peru's government will make changes to jailed ex-President Alberto Fujimori's prison conditions in order to control the number of visitors the former head of state can receive, state news agency Andina reported Justice Minister Víctor García Toma as saying.
García Toma's comments follow a report by magazine Caretas that detailed a surge in Fujimori's visits allegedly related to his daughter Keiko's campaign for Peru's presidential election in 2011.
The head of Peru's national penitentiary institute INPE, Rubén Rodríguez, told daily El Comercio that Fujimori receives the most number of visitors on Sunday, adding that in one day he received 180 visits.
"Sunday is the peak. The weekdays there are on average 60 or 40 visitors (per day)," Rodríguez said. He added that Fujimori has the right to receive visitors three days per week from 9 a.m. to 5 p.m.
According to García Toma, Peru's penal code does not limit the number of visitors a prisoner can receive, however he said the current amount Fujimori is receiving is excessive.
"This is not illegal, but we do not agree that an inmate receive 180 visits in one day," García Toma said. "It does not create harmony… and it is clearly not just."
According to Caretas, many of Fujimori's visitors are members of the Vaso de Leche social program, which provides support for children, women and the elderly in need in 48 districts in Lima and the port city of Callao.
"Alberto Fujimori understands that woman from the mothers clubs are a powerful organization that, if manipulated properly, like he did during his government, can provide good electoral [benefits]," Lima councilwoman Marisa Glave told Caretas.
"Fujimorism has always politically used women from the mothers clubs. Keiko Fujimori is the heir of the ill-fated practices that were committed during the administration of her father. It would not surprise us that now they are using them [to recruit]."
However, the head of the Vaso de Leche program, Pilar Brito, told RPP radio that none of the presidents from the 48 districts have visited Fujimori, adding that the organization has no political connections to Fujimori.
"We categorically deny what is published in Caretas magazine," Brito said. "We have a law… that says in article 10 that we, as members of the organization, cannot politicize the Vaso de Leche program."
"Yes people have gone, but they are not members of the organization, of Vaso de Leche. The women do not belong to the Vaso de Leche program. Of all my presidents from the 48 districts in Lima and Callao, none have gone to [the prison]."
Fujimori, 71, was convicted in April 2009 of the crimes of voluntary manslaughter, serious injury and aggravated kidnapping that covered four different events in 1991 and 1992.
The length of Fujimori's term in prison includes the time spent in custody and under house arrest in Chile in 2005 until his extradition to Peru in 2006. He is to serve the sentence until Feb.10, 2032.
His daughter, Keiko, is planning to run for Peru's presidency in 2011, and according to a recent survey cited by daily La Republica she is sitting in second place in voting preference behind Lima's current mayor Luis Castañeda.
Nineteen percent of those surveyed said they would vote for Keiko, compared to 30 percent for Castañeda. Keiko is followed in the poll by former president Alejandro Toledo and the leader of Peru's Nationalist party, Ollanta Humala.