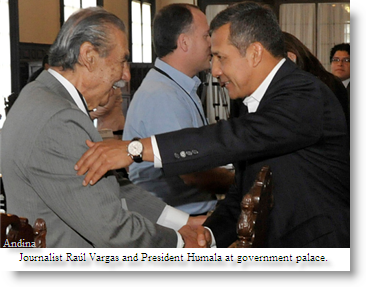 President Ollanta Humala is inviting former Presidents Alan Garcia and Alejandro Toledo to a meeting early next week, to discuss the upcoming ruling by The Hague on a maritime border dispute with Chile, daily El Comercio reported.
The meeting is expected to be held Monday at the government palace, and both President Garcia, who is Humala's immediate predecessor, and President Toledo, who is currently in the U.S., have reportedly confirmed that they will attend the meeting.
Premier Cesar Villanueva, Foreign Affairs Minister Eda Rivas and Justice Minister Daniel Figallo are also expected to join the meeting.
President Humala has been holding and scheduling meetings with various sectors, including regional governors and mayors, ahead of the announcement of the ruling by the International Court of Justice at The Hague. The court is scheduled to announce its decision on the dispute on January 27.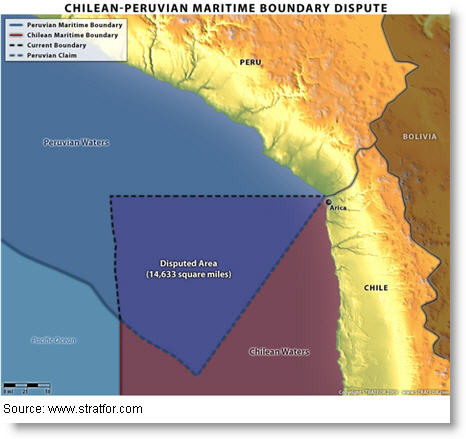 Earlier this week, President Humala met with the editors and publishers of local media. On Friday, Foreign Affairs Minister Rivas is expected to meet with foreign journalists working in Peru, while Humala is expected to meet with political leaders including Keiko Fujimori, Lourdes Flores, Luis Castañeda, Pedro Pablo Kuczynski, Yehude Simon and Salomon Lerner.  In a previous meeting with political leaders, Keiko Fujimori and Alan Garcia refused to attend.
As both President Humala in Peru and President Sebastian Piñera in Chile have been calling for calm and measured reactions to The Hague decision,  former President Garcia decided this past week to whip up patriotism and Peru's age-old anti-Chile sentiments by calling for everyone to raise the Peruvian flag on their homes and for people to be able to report to work after 11 am on Jan. 27  so that they can listen to the live broadcast of the ruling.
Although Garcia can be justly proud of his administration's selection of the legal team that has defended Peru's case at The Hague, his enthusiasm at a possible favorable outcome for Peru has not gone down well in Lima or Santiago, where the more polite epithets thrown at him include imprudent,  demagogue and chauvinist.
"He wants to divert the [Congressional] 'megacommission' investigations a little bit," said former Finance minister and presidential candidate Pedro Pablo Kuczynski, an opinion shared by many non-Apristas as Garcia faces serious allegations of being involved in a number of possibly criminal decisions and operations during his administration.  The allegations could hamper his chances to be re-elected President in 2016, if not in the courts at least in public opinion.
The Peru-Chile dispute dates back to the 1879 – 1883 War of the Pacific, in which Peru and Bolivia lost substantial territory to Chile. Central to the current row is 38,000 square kilometers, or about 14,500 square miles, of fishing-rich sea which Chile currently controls.
Chile says the current border, which runs parallel to the Equator, was established under the two agreements from the 1950s, but Peru claims these were only fishing treaties and that the maritime zone has never been settled.
Peru's proposed border follows the countries' south-western sloping border into the ocean, as seen in the map.
While both Chilean and Peruvian officials have said they will respect the court's ruling, it could create tension between the two countries and political demands and criticism within each country.