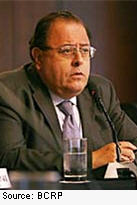 Peru's Central Bank has lowered its projection for the country's economic growth this year to 6.5 percent from 7 percent.
"We forecast that this year the national economy will grow 6.5 percent, as it also will in 2012 and 2013," state news agency Andina reported Central Bank President Julio Velarde as saying. "This rate is lower than last year but it will still be the best result in the region."
The Central Bank lowered its projection mainly due to lower than expected public expenditures and private investment, the report said.
The bank's forecast is similar to expectations from the International Monetary Fund. The IMF is forecasting Peru's GDP to grow by 6.6 percent this year and then drop to 5.9 percent in 2012.
The IMF said it expects Peru's economic growth to lead South America. Chile is projected to have the second highest rate at 6.2 percent, followed by Argentina (6 percent), Colombia (4.6 percent), and Brazil (4.1 percent).
The continent's average GDP growth in 2011 is expected to be 4.7 percent. The only other countries with higher forecasts in Latin America and the Caribbean are Haiti (8.6 percent) and Panama (7.4 percent).
The World Bank, meanwhile, said last week it expects Peru's GDP to rise 6.9 percent this year, 6.1 percent in 2012 and 5.2 percent in 2013.