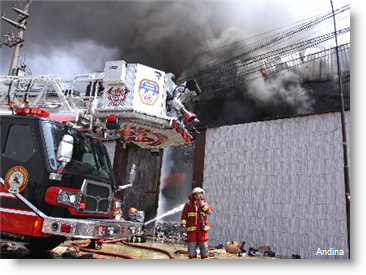 Fourteen people were injured Monday during a fire at a factory in north Lima's Independencia district, daily La Republica reported.
More than 20 fire fighter units were sent to the factory,  owned by Industrias Manrique, a company that makes shoes. The company had recently won a contract to provide boots to fire fighters in Lima.
The incident is the third large fire in Lima in recent weeks.
In late October, more than 800 people were left homeless after a fire burnt through makeshift wooden homes in a densely inhabited area in Callao. That fire was reportedly caused by a stove in one of the houses.
Last week, fire fighters spent hours battling a fire at a motorcycle and tire warehouse in the central La Victoria district, where thick black smoke filled the sky. It took more than five days to put out the embers completely in the four-story building, which is now structurally unsafe and is to be demolished.  Local media reported that firefighters had difficulty putting out the fire because they were underequipped.
Days earlier, a six-year-old girl and Gregorio Alvarado, 70, died in a fire in downtown Lima, at the corner of Cailloma and Ocoña near the Plaza San Martin, where the colonial wattle and daube houses quickly collapsed in the flames.  The child's grandmother only managed to save her other, 18-month-old grandaughter.  Alvarado had returned to his rooms to rescue his savings.   Initial investigations showed the fire was caused by a short circuit.
The fire chief at the scene, Alejandro Leon, said it took four hours to put out the fire, partly because the water pressure from the hydrants was at 20 lbs instead of 100 lbs.
The firefighters' main problems are the slow renewal of personal protection equipment and the frequently low water pressure in the hydrant system operated by the Lima water board, Sedapal.  Although many of the fire engines and ladders are more than 20 years old, they are well maintained and in full operating condition.
All firefighters in Peru, as in Chile, are volunteers. The exception are the engine drivers and administrative personnel, and as of 2011 also the national fire chief, who are paid.  The training is rigorous and professional and the advantage of volunteers, in a country where public service jobs are poorly paid, is that it attracts men and women from a broad scope of careers and society, including doctors, market-stall owners, lawyers, sales people, engineers and economists.