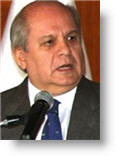 Theories and allegations have been moving through government circles and the armed forces since Defense Minister Pedro Cateriano called for an investigation into the wire tapping of his phone, an incident that highlights the extent to which the practice is being used against political targets, and in this case the individual that oversees the country's armed forces.
On Sunday, local television broadcast a private telephone conversation between Cateriano and an unknown individual. In the conversation, Cateriano says that he has received the green light from First Lady Nadine Heredia to work with the United Nations Development Program, UNDP, to oversee military purchases (not weaponry). Despite criticism from political opponents, Heredia is a top adviser to her husband, President Ollanta Humala, and is known to have considerable weight in Peru's government.
"I recognize this to be extremely grave," state news agency Andina reported Cateriano as saying. "I've asked for investigations into the case and I'm going to personally request that it is investigated to the final consequences."
The conversation was taped eight months ago, and analysts question the timing of the disclosure.  Some analysts believe it could have been made either by Ministry of Defense staff, by people within the armed forces, or even in collusion with outside military suppliers, any of whom may not care for transparent UNDP supervision.   Many certainly believe it is aimed at discrediting the government by highlighting the power of the first lady.
Political analyst Mirko Lauer considers a handful of political reasons for the timing of the disclosure, including discreting Heredia, weakening the UNDP participation, or maybe even trying to cloud Nobel laureate Mario Vargas Llosa —a long-time political ally of Cateriano— who heads 1000 signatures in a letter of protest against the decision by Congress this week to share out political favors between political parties in the election of members to the Constitutional Court, the Central Reserve Bank, and the choice of the new People's Ombudsman.
Wire tapping is widespread in Peru. It can easily be dated back to the military government of the 1970s, and flourished under jailed ex-President Alberto Fujimori's administration when intelligence agencies, under the leadership of former spy chief Vladimiro Montesinos, listened in on conversations of opposition politicians, judges, journalists, union leaders and anyone else considered a risk.
Since Fujimori's fall in 2000 and the subsequent breaking up of Montesinos' spy network, many of the same tactics are believed to now be used by private security firms and other shadowy groups in order to discredit prominent individuals.  Releases of secret telephone calls have in recent years been used to highlight serious corruption issues, but also to sway elections by harming candidates.
The most notorious case recently was the Business Track, or BTR case, which ended in a trial in 2012 and a 10-year sentence for the owner of the company, a retired naval officer, Elias Ponce Feijoo. BTR tapes, released of a conversation between Garcia administration officials on an oil concession contract bribe, led to the trial and conviction of Romulo Leon and Alberto Quimper.