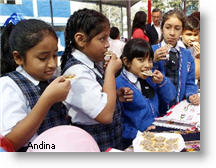 President Ollanta Humala signed into law Thursday legislation to promote healthy eating and curb the advertising of junk food.
The law specifically targets children and youth under the age of 16. It prohibits the advertising of junk food and fast food that targets children and youth. It also aims to progressively limit the amount of trans fats used in industrial foods.
"We want to create a pact to defend the good nutrition of our children, to defend healthy practices in order to have healthy and strong children, capable of succeeding at school and ready to take on new challenges in society," Humala said, according to state news agency Andina.
The President said the overall campaign also included promotions to encourage street vendors and school kiosks to sell healthier snacks with lower sugar content, which follows an ongoing campaign by his administration, often led by First Lady Nadine Heredia. to eat more local grains and fresh produce, and to use healthier foods in school lunchboxes.
Although Peru has its own world-renowned cuisine, fast-food restaurants flourish in the Andean country, and the traditional home-cooked meals are being pushed aside in favor of eating out. A 2012 report by Bloomberg said that Peru has the greatest concentration of U.S. fast-food restaurants of any other emerging market. According to the report, Peruvians need only travel, on average, a little over half a mile to the nearest U.S. fast-food restaurant.
In addition to big  American chains such as McDonald's, KFC, and Burger King, there are also innumerable local places offering generous servings of French fries with fried chicken, or with sliced hot dogs covered with mayonnaise, called salchipapas.
The law has come under criticism from industry groups and some local media that say it is unfairly targeting businesses. Food industry leaders say it won't help to curb obesity.  Newspaper El Comercio said that the law is broad enough that it will prevent all advertising for junk food and fast food.
"If a person wants to eat something flavorful and greasy, they will do it," the daily said. "But now they will turn, rather than to industrial products, to fried food cooked at home, in a restaurant or street carts that can be equally harmful or could have worse health standards than industrialized food."
However, child obesity is definitely on the rise in Peru, particularly in Lima and notably over the past 10 years.  According to nutritionists at the Ministry of Health, 25% of school-aged children in Lima are now overweight and 28% are obese.  Peru is now eighth in the world ranking of child obesity, according to the World Health Organization, with 15% of children under the age of five suffering from obesity.