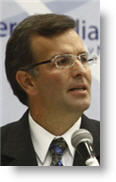 Foreign Trade and Tourism Minister Jose Luis Silva said Monday that a warning by the United States of a kidnapping plot in Peru's Cusco region has not affected tourism to the Inca ruins of Machu Picchu.
"We've analyzed the number of tourists that have entered [Machu Picchu] by train and it is the normal rate," Silva told RPP television on Monday.
The U.S. embassy in Lima issued a statement last week warning travelers that a criminal organization was planning to kidnap U.S. citizens. It said there was a "credible" threat, "at least through the end of February 2013."
The embassy said that it banned travel by U.S. embassy personnel to the Cusco region, including Machu Picchu, which is Peru's most popular tourist attraction.
Newspaper La Republica, citing unnamed sources, said the threat came from remnants of the Shining Path insurgency, which operate in a rugged jungle region in southern Peru. The rebels briefly kidnapped 36 natural gas workers last year in Cusco region.
Ricardo Soberon, a former director of the government drug policy agency, DeVida, and a harsh critic of DeVida's current policies, said the U.S. Embassy's warning was "excessive" and curious, on the grounds that the Shining Path remnants in eastern Cusco are at least eight hours away by land from the city of Cusco and any tourist sites, and would more likely target oil exploration operations closer to their territory rather than tourists.
Soberon said the U.S. government warning could be an attempt to justify the Pentagon's involvement in building an airstrip and military installations with Peru in the eastern jungle area to fight the Shining Path and drug traffickers.
The travel warning appeared to have caught Peruvian authorities off guard and drew criticism from top government officials concerned that it could harm tourism to the Andean country.  Premier Juan Jimenez said last week that the source for the U.S. travel warning was "uncorroborated."
However, Silva said that tourism to Machu Picchu has instead increased in recent days compared to the same period last year.
"This statement from the United States hasn't had an impact," he said. "Things are calm."
Machu Picchu and the city of Cusco are UNESCO World Heritage Sites. About one million national and foreign tourists visit Machu Picchu every year.