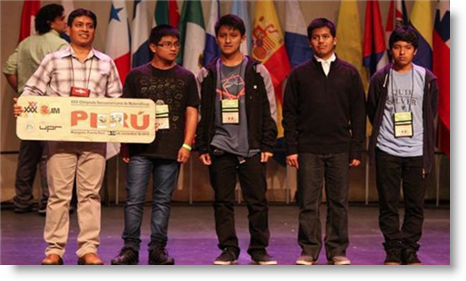 Four Peruvian students brought home three gold medals and a silver from the 30th Ibero-American Mathematical Olympiad, held this past week in Puerto Rico.
The competition is held ever year and is organized in a format of six problems in two days and each problem is worth 7 points.
It is the first time in the competition's history that three gold medals have been won by students from one country, according to Jesus Zapata, a math professor at the Catholic University and head of the Peruvian delegation.
Angel Napa, Jemisson Coronel and Daniel Rojas, who won the gold medals, and silver medalist Jeferson Herrera competed with high-school students from 22 countries in Latin America and the Iberian peninsula (Spain, Portugal and Andorra).   The gold medals were won for perfect points.