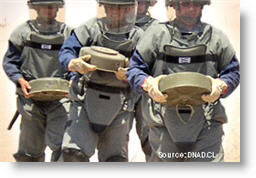 The removal of anti-personnel landmines on the Peruvian and Chilean border is expected to be completed in December, state news agency Andina reported.
Norwegian People's Aid, a non-government organization, was commissioned to remove the landmines by both Peru and Chile. Almost 30 specialists from the NGO began the work this week.
Norwegian People's Aid will be responsible for removing the landmines from a 67,000-square meter area. The group has experience removing landmines in 18 countries, including Iraq, Serbia, Vietnam and Congo.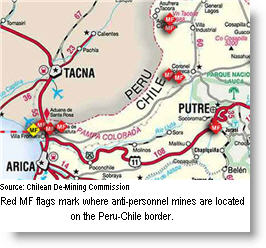 Peru's border crossing with Chile was temporarily closed last February, restricting the movement of thousands of travelers, when flooding of the Seco River in Chile dislodged landmines that had been planted along the desert area and eastward high into the Andes mountains.
The mines were laid during the Pinochet regime in the 1970s on Chile's borders with Argentina, Bolivia and Peru. Many of the mined areas have been cleared but, according to a 2011 report, 143 mined areas remain. Over 90% of the mines that remain are along the Peru border in Arica, Parinacota and Antofagasta.