By Paula Dupraz-Dobias 
~ Special to Peruvian Times ~
LIMA, PERU – Lack of coordination of policy within the Peruvian government is aggravating efforts to effectively respond to reports about widespread killing of dolphins, according to NGO Mundo Azul's director, Stefan Austermühle.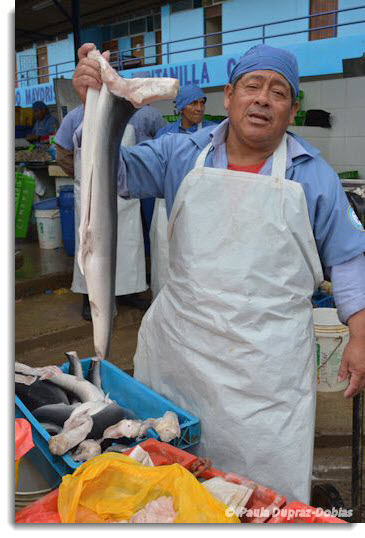 In a phone interview, Austermühle said the lack of real action in response to existing data was "totally irresponsible," and also warned of over-fishing in the absence of a fisheries management system.
In October, Mundo Azul and US-based conservation group Blue Voice reported that between 5,000 and 15,000 dolphins were being hunted annually off the Peruvian coast, for use as shark bait and for human consumption. Video shot by Mundo Azul showed fishermen harpooning dolphins, before cutting the bodies up for bait. Dolphin hunting was officially banned in Peru in 1996.
Austermühle said that while the Environment Ministry has been supportive of his organization's publication of data estimating the extent of illegal killing of dolphins, the Production Ministry has not only failed to recognize the information, but also, "is engaged in a campaign to discredit Mundo Azul and the credibility of our data."
He said the government has not yet introduced any effective measures, such as legal actions, including a possible shark-fishing ban. The only move taken, he said, was a publicly announced inspection by the public prosecutors' office, a "media show," in which only 1.5 kilos of dolphin meat, also known as muchame, was confiscated from a restaurant in the port city of Callao.
On Friday, Nov. 8, Environment Minister Manuel Pulgar-Vidal told The Peruvian Times that effective sanctions and supervision mechanisms were required, "especially given the cruel way in which these animals were killed."
He said that the artisanal fishermen involved in the practice were aware of the malice that they were committing, but "a dissuasive atmosphere was lacking to stop them from continuing to do what they are doing."
On a recent visit to the fish market in Ventanilla, near the port of Callao, vendors admitted that dolphins continued to be commonly used as bait in fishing. One seller joked that sharks enjoy a variation of bait, including dolphin meat.
The high demand for shark fins, especially in Asia for soup and to be ground into a supposed powdered aphrodesiac, has been an additional motivation for fishermen. The fins are either separated in port and commercialized separately, or illegally removed at sea, before throwing the mutilated shark back into the water to die.
Deputy Fisheries Minister Paul Phumpiu said in October that the government would consider "all forms of action, from bans and restrictions to — in extreme cases — the prohibition of (shark) commercialization." He said that an investigation into the practice employed by shark fishers would be completed by mid-2014.
While Austermühle acknowledged that the data collected only represent estimates, which he qualified as "conservative" due to the exclusion of additional unregistered boats, he says that numbers do not matter that much.
"Whether it is one thousand, two thousand, ten thousand or twenty thousand, the fact is that they are violating a law," he said. "It has been a crime for the past 16 years, and the numbers prove that it is not just one or two fishermen, but the systematic method used to catch sharks."
Mundo Azul said its figures of 5,000 to 15,000 dolphins killed for bait was based on some 500 officially registered shark fishing boats, which make between six to 10 trips a year, during which 1-10 dolphins are killed.
He said that if an additional 10,000 to 20,000  can be factored in — an estimate of  dolphins unintentionally snared in nets, according to separate studies — the total dolphin death toll reaches some 30,000 to 40,000. That, he said, is "completely unsustainable for any kind of species."
Minister Pulgar-Vidal said it was "important to sensitize the public that (killing dolphins) is not socially acceptable". He said people should be conscious that "They should not be consuming something that is a prohibited species or a certain type of shark".
The director of Mundo Azul spoke of the ineffectiveness of applying restrictions on shark fishing, which limits juvenile or young sharks under 1.6 meters in size, to 10 percent of the catch. Research by Mundo Azul in two out of the five major Peruvian ports shows that 90 percent or more of sharks caught were undersized.
This, he said, was "a clear indication of over-fishing," yet the government claimed that there is not enough proof to introduce a ban.  Austermühle said the problem began 10 years ago, when the government encouraged fishermen to hunt for all species of shark after the dog shark, or "toyo," population crashed. He confirmed that the official boost was made in absence of any study on the population size of the species.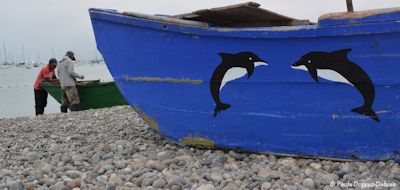 "Something is entirely wrong with the organization of the government," Austermühle said.  "We ask that (the government) be responsible and ban the fishing, but they say it would be irresponsible without having the data. We remind them that they promoted the fishing without having the data. (The government) did not monitor this, and for nine years (they) were acting irresponsibly."
The result, Austermühle said, is "an ecological crime, driving the species into the ground."
The FAO's code of conduct for responsible fisheries states that "The absence of adequate scientific information should not be used as a reason for postponing or failing to take conservation and management measures".
Back at the Ventanilla market, shark meat was widely available, with the species for sale barely over a meter long .