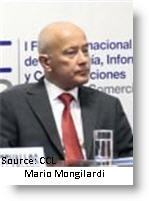 The Lima Chamber of Commerce said Wednesday that they expect a free trade agreement between Peru and Guatemala to enter into force before the end of this year, state news agency Andina reported.
The free trade agreement with Guatemala, signed in December 2011, is one of the latest accords Peru has signed over the past decade to boost trade.
The Andean country has reached bilateral trade pacts with its biggest partners, including China, the United States and European Union, while it is also participating in a number of negotiations for multilateral accords.
Trade between Peru and the tiny Central American nation is small, but Guatemala is one of Peru's main trade partners in Central America and the Caribbean, after Panama and the Virgin Islands, according to the Lima Chamber of Commerce.
The business group's vice president, Mario Mongilardi, said that in 2011, bilateral trade between the two nations was $143 million. From 2000 to 2010, Peru's exports to Guatemala increased an average 8.6 percent per year. In 2010, Peruvian exports totaled $51.4 million, while its imports from Guatemala totaled $76.4 million.
Mongilardi said that Peru's non-traditional exports to Guatemala have grown 37 percent in the first five months of this year at $26.7 million. This represents 88 percent of Peru's total exports to Guatemala so far this year.