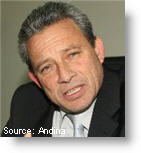 Peru's former anti-drug chief, Ricardo Soberon, has warned that the southern region of Puno could become a major coca-growing region in the next five years, Radio Programas reported.
Peru has seen a steady increase in the production of coca, the raw material used to make cocaine, during the past several years as production in neighboring Colombia has declined, the result of that country's anti-narcotics strategies.
Peru's top coca growing region is now centered in the Apurimac and Ene river valley area, known as the VRAE. The mountainous jungle region located in south-central Peru is where remnants of the Shining Path rebels continue to operate thanks to profits from the drug trade and years of state neglect in the area.
Other areas with little state presence have also seen an increase in coca production in Peru over the last few years, and particularly the lower valleys of Puno, along the watersheds of the Inambari and Tambopata rivers.
Between 2006 and 2010, Puno saw a 58% increase in coca cultivation. "We have always maintained that the next VRAE is going to be Puno in the next five years and everything seems to be pointing in that direction," Soberon said.
He said Shining Path remnants in the VRAE are looking to gain a bigger control over transit routes for drugs from Peru to Brazil, which has seen a major increase in drug consumption over the past few years.
"Rio de Janeiro and Sao Paulo are the emerging markets for base paste coming from Peru and Bolivia," Soberon said.
Soberon was the head of Peru's anti-drug agency Devida during the first months of President Ollanta Humala's term. His pioneering strategies, however, clashed with U.S. policies and the traditional methods used by Peru's military and police authorities. He left the post after a major cabinet shake up that saw the appointment of a new premier, Oscar Valdes, and a number of other cabinet members.