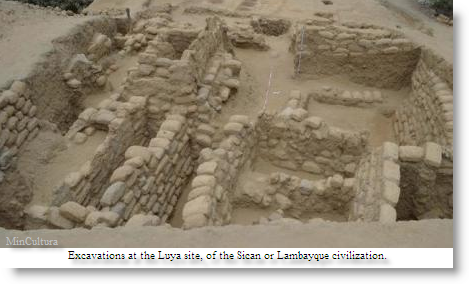 A small group of invaders were planning to start farming on an archaeological site in northern Peru, according to the Ministry of Culture.
The ministry said that no major damage was caused at the Luya site, located about 45 minutes outside Chiclayo in Lambayeque region.
"No prehispanic building that forms part of the Luya site has been invaded and much less knocked down," the ministry said.  It said the incident was "minor" and the individuals who had invaded the property agreed to leave.
The group had reportedly sought to set up on the archaeological site in order to use the land for farming, with authorization from a neighboring community.
Archaeologists say the Luya site, of the Sican or Lambayeque culture, includes an important ceremonial center, as well as a series of platforms and terraces dating back some 1,300 years.
Peru has hundreds, if not thousands, of archaeological sites dotted throughout its Andean highlands and coastal desert regions. While some of the main attractions are well-maintained, many others may be registered but are neglected due to lack of funds or projects.
Earlier this year, a construction company bulldozed an unexcavated mound at the El Paraiso archaeological site, located on the outskirts of northwest Lima. Although no damage was caused to a stone complex believed to be over 5,000 years old, lack of protection and difficulties over property titles lends confusion over authority, whether municipal or government.