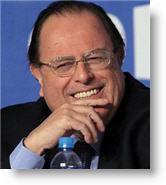 The president of Peru's Central Bank, Julio Velarde, has been ratified  by President-elect Ollanta Humala to continue in his post in the new administration.
Humala, a left-wing nationalist, announced on Sunday night that he had met with Velarde, who agreed to continue in his current post.
News of the appointment helped boost market confidence in Humala, and resulted in the Lima stock exchange, or BVL, closing 4.62% higher on Monday.
Opposition politicians and critics of Humala have praised the decision, while some members of his Gana Peru party have come out against it.
Outgoing President Alan Garcia said the announcement brings immediate confidence from the international markets. "It seems to me a good decision from the president[-elect], because it shows that he wants to avoid inflation," Garcia said.
Ex-President Alejandro Toledo, who ran against Humala in the first round vote and then supported him in the second round, said that Velarde's appointment is "a clear sign of confidence for the country."
Analyst Erasto Almeida of the US-based Eurasia Group said in a note that Humala's decision shows a strong sign of moderation.
"Humala's decision yesterday to keep current President of the Central Bank and respected economist Julio Velarde in his post represents to the strongest signal to date over his commitment to maintain macroeconomic stability and moderate economic policies," Almeida said.
"The next most important decision for Humala now rests in who he will choose to head the Ministry of Finance, where there is growing speculation he will announce this coming Wednesday Luis Miguel Castilla, another moderate economist, to the post," he said.
Meanwhile, Javier Diez Canseco, elected to Congress as a member of Humala's Gana Peru party, said he did not support Velarde's reappointment. "The logical thing is that people who have managed the proposal for the government plan and plan for the first 100 days [of government] take on the responsibility," he said.
The main economic advisors to Humala have been Felix Jimenez, the author of his original government plan, as well as Kurt Burneo and Oscar Dancourt, members of his transition team, along with Jimenez, for economy and finance.
Humala takes office on July 28.