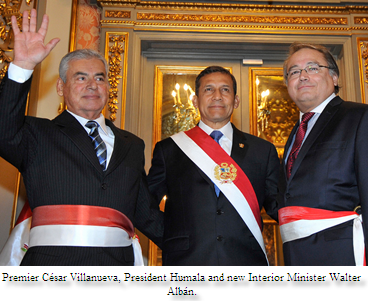 Peru's new Interior Minister Walter Alban, sworn in Tuesday morning at a government palace ceremony, called for political opponents to give him time to work before criticizing his appointment, daily El Comercio reported.
Alban arrived in Lima late Monday from Washington D.C., where he was previously Peru's representative to the Organization of American States. Alban's appointment to the Interior Ministry was announced late Sunday following the resignation of Wilfredo Pedraza.
Alban, a well-respected lawyer, has been well-received as the new head of Interior, although some observers have pointed to his lack of experience with Peru's national police and security issues.  He does, however, have experience as the People's Ombudsman, which frequently includes working with the security institutions.
"I ask that you allow me to get set up and to start to do things that I think will be improvements," Alban said. "Obviously I have to be brought up to date in a series of things," he added.
Former Interior minister Pedraza resigned after it was revealed that police had been providing security to the home of a political operative of Vladimiro Montesinos, the powerful former spy chief during the administration of Alberto Fujimori.
A number of high-ranking police generals were fired by Pedraza, who announced his resignation shortly later on Friday. Humala's top security advisor, Adrian Villafuerte, also resigned.
The political scandal dominated Peruvian headlines over the weekend and on Monday, with political parties blaming each other for the incident, and armed forces and police accusing each other of lying about their involvement. On Monday, Huamala said in an interview that the incident was a cause of police corruption, and not a shadowy parallel power structure within the state similar to the one overseen by Montesinos during the 1990-2000 administration.
Immediately after the swearing-in ceremony, President Humala held a work meeting at the palace with Alban, Premier Villanueva, the deputy ministers of the Interior, former minister Wildredo Pedraza, the director general of the Police, General Jorge Flores, and all the members of the General Staff of the police force.  On the agenda were citizen security, illegal gold mining interdiction, drug traffic and the joint work with the military in the VRAEM area, as well as the fight against organized crime.