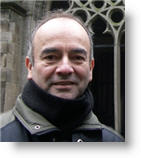 Carlos Ivan Degregori, one of Peru's leading anthropologists and most influential intellectuals, died in Lima Wednesday after a three-year battle with pancreatic cancer.
An untiring researcher and prolific author, soft-spoken, Degregori moved easily between different academic worlds, in Ayacucho and Lima and other parts of the world.  He continuously encouraged education and served others through his advocacy of human rights and justice.
He studied at the university of San Cristobal de Huamanga in Ayacucho and later at San Marcos, and Brandeis University in Boston. He was a professor at San Cristobal for eight years, and became a visiting professor or visiting scholar at a number of universities, including Utrecht (The Netherlands); Columbia, Madison-Wisconsin and Johns Hopkins (USA); École des Hautes Etudes en Sciences Sociales (France); and the Freie Universität, Berlin (Germany).
As a member of the 2001-2003 Truth and Reconciliation Commission (CVR), which covered the 1980-2000 political violence initiated by Sendero Luminoso, he coordinated the research plan and was head of the editorial committee that prepared the final, nine-tome CVR report.
He was also director of the Anthropology School at San Marcos (2000-2002), a member of the New York-based Social Science Research Council, and twice director of the Institute of Peruvian Studies, IEP, where he published numerous books and papers covering different topics related to ethnicity, social movements, government and justice, and particularly on Sendero Luminoso, or Shining Path, of which he became a recognized expert, stripping the movement of any romanticized view of being grassroots or an ethnic Andean project.  
His most recent book launched by IEP in February this year is a new edition of his writings published between 1985 and 1996 on the Shining Path – Qué dificil es ser Dios. A selection of  these writings were published in English in 1991 (How Difficult it is to be God. Ideology and Political Violence in Sendero Luminoso". Critique of Anthropology 11(3), London 1991. pp.233-250.)
Much of his work is in Spanish, but the following are some of his contributions in books and journals published in English.
The Peru Reader. History, Culture, Politics. Duke University Press. Durham and London 1995. (Editor with: Orin Starn and Robin Kirk).
"Fujimori: The Vanishing of a Regime and the Challenge of Democratic Rebuilding". Jorge I. Domínguez and Michael Shifter, Constructing Democratic Governance in Latin America, 2nd Edition. The Johns Hopkins University Press, Baltimore – London, pp. 220 – 243.
"Ethnicity, Citizenship and Democracy. A Regional Perspective." Fujimori's Peru. 1990-1998. John Crabtree and Jim Thomas (editors). University of London, London, 1998, pp.243-261. (with: José Coronel and Ponciano del Pino). 1998.
 "The Maturation of a Cosmocrat and the Building of a Discourse Community: The Case of Shining Path". David Apter (editor) The Legitimation of Violence, UNRISD / MacMillan Press, London, 1997, pp.33-82.
After the Fall of Abimael Guzmán. The Limits of Sendero Luminoso". Maxwell Cameron and Philip Mauceri (editors) The Peruvian Labyrinth. Polity, Society, Economy. Pennsylvania State University Press, 1997. pp.179-191.
« Harvesting Storms. Peasant Rondas and the Defeat of Shining Path in Ayacucho ». Steve Stern (editor). Shining and Other Paths. War and Society in Peru, 1980-1995. Duke University Press, Durham and London 1998, pp.128-157.
"Reaping the Whirlwind: The Rondas Campesinas and the Defeat of Sendero Luminoso in Ayacucho". Kees Kooningns and Dirk Kruijt (editors), Societies of Fear. The Legacy of Civil War, Violence and Terror in Latin America. Zed Books, London 1999, pp.63-87.
"Shining Path and Counterinsurgency Strategy since the Arrest of Abimael Guzmán". John Tulchin and G.Bland (editors). Peru in Crisis. Dictatorship or Democracy? Wilson Center, Washington D.C. 1994, pp.81-100.
"The Origins and Logic of Shining Path. Return to the Past". Shining Path Of Peru, David S. Palmer (editor) St. Martin's Press, New York, pp.38-44.1991.
"A Dwarf Star". Fatal Attraction. Peru's Shining Path. NACLA Report on The Americas. Vol.xxiv, n.4, Dec.1990 – Jan.1991. New York, 1992, pp.10-16.