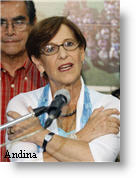 Lima Mayor Susana Villaran was able to overcome a recall vote on Sunday, which will allow her to finish her four-year term in office.
Exit polls late Sunday showed that Villaran would likely defeat a referendum to remove her from office, and official counts late Monday supported that. The latest official count shows Villaran with about 51.6 percent of the vote, while those that wanted her kicked out of office early had about 48.4 percent, according to daily La Republica.
The swing in favor of Villaran came as a final rush, as Villaran was trailing by up to 10 percentage points only a week before the referendum, according to pollster Ipsos Peru.
However, in that final week Villaran's campaign made inroads as supporters of the referendum became splintered and made comments about women that were offensive to much of the electorate. And with only days to go before the referendum journalist Rosa Maria Palacios broadcast on her ATV television program a recording of a conversation in which former mayor Luis Castaneda obviously played a major role in orchestrating the referendum.
Villaran also enjoyed the support of a broad coalition that included not only backers of her leftist Fuerza Social party, but also those from center and center-right parties particularly the the Popular Christian Party, PPC, led by Lourdes Flores. Flores narrowly lost to Villaran in the 2010 municipal election and is an influential figure in national politics.
While Villaran will now finish out her term, she won't be working with her original team — most of the town council members of her own party have been ousted in the referedum, including deputy mayor Eduardo Zegarra and a key figure with experience in city management, Marisa Glave.   Villaran does have the support, however, of the PPC which agreed prior to the recall vote to provide support where Villaran's team is weakest.
Because more than 20 city councilors have been revoked, a new election for their spots will be held in December this year.  
The referendum was a top news story in Lima in the weeks leading up to the vote, and indeed for more than a year in many pro-recall news sources.  The mayor of Lima, who governs for 9 million residents, is considered the second most important elected position in Peru, and one of the most important government positions.
Lima's mayor, however, has little influence on national politics and, despite widespread speculation by pundits every time a city election comes around, they have rarely been able to use the position as a jumping point for the country's presidency.  
The only three mayors of Lima who have ever gone on to become President are Manuel Pardo in the 19th century, Manuel Candamo in 1903, and Guillermo Billinghurst in 1912. 
However, the referendum was seen as a test for many of Peru's national politicians to position themselves ahead of the presidential election in 2016, when President Ollanta Humala is barred from running for a consecutive term.  Certainly the Apra party and Alan Garcia, who have lost most of their political power and now only have four seats in Congress against a once-strong tradition of at least 30%, were hoping to regain some of that power by backing the recall promoters.  Polls show, however, that when Apra openly backed the recall, support for the recall dropped several points.
In addition to Flores, who has also run twice for president, Villaran was supported by former President Alejandro Toledo, who lost to Humala in 2011, and Pedro Pablo Kuczynski, a former prime minister who also ran for president in 2011.
Supporters of removing Villaran included Castaneda, who had served two terms as mayor of Lima and who lost in the 2011 presidential election, as well as former President Alan Garcia, who was constitutionally barred from running in 2011 but has said he is considering running for president in 2016.