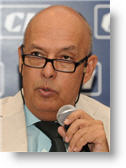 Peru seeks to boost ties with the Middle East as Lima prepares to host in October the III Summit of the South American and Arab Countries, known as ASPA.
Peru's deputy Foreign Relations minister, Jose Beraun, said the summit planned for October 1 and 2 will help develop commercial and investment relations between Peru and the Middle East.
Beraun said that countries like Oman and Saudi Arabia could provide support to Peruvian petrochemical projects, state news agency Andina reported. Middle-Eastern countries could also provide support for Peruvian water desalinization projects being developed on the country's arid coast.
The official also pointed to Saudi Arabia and Kuwait as potential importers of Peruvian agricultural products and textiles, given that these countries import more than 90 percent of those products.
"At the trade level, the Arab countries make up a very concrete opportunity," Beraun said.
All of the presidents from South America, plus representatives from 14 Arab nations are planning to participate in the meetings. Parallel to the ASPA's head of states summit, there will be an Arab-South American Business Forum. 
October 1 and 2 have been declared a national holiday in Lima and the port city of Callao by Peru's government, a strategy used for security reasons to avoid traffic congestion in areas where thoroughfares will be blocked off near hotels and conference centers to be used for the summit.