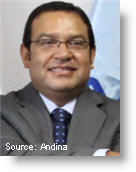 Peru's Minister of Defense, Luis Alberto Otarola, is to travel to Brazil in February to promote the entrance  of Peruvian companies producing military equipment into Latin America's biggest economy, state news agency Andina reported.
Otarola said that Peru's naval shipyard and industrial services company, Sima, will look to position itself in the Brazilian market during the coming years.
"We hope that starting next year Sima will participate in bids in the Brazilian market," Otarola said.
In addition to military equipment, Sima has also built large ships that pass through the Panama Canal as well as smaller boats that can navigate the Amazon, Otarola said. "The company has had good earnings," he added.
During his press conference, Otarola also said that President Ollanta Humala may visit South Korea in May. "We are at the point of closing a substantial deal with the world's main shipyard company to possibly bring technology [to Peru]," the minister said.