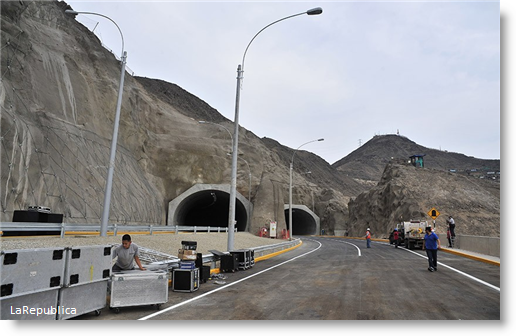 Two tunnels opened for a trial run yesterday, connecting vehicle traffic between Lima's most heavily populated district —San Juan de Lurigancho, pop. 1 million — and eight districts to the west.
The twin Santa Rosa and San Martin tunnels, inaugurated by Mayor Luis Castañeda on Lima's 481st anniversary, cut through the narrow Santa Rosa hill that separates downtown Lima and the Rimac district from the sprawling eastern section of Lima.
The five-minute journey through the 250-meter tunnels will cut travel time by 40 minutes or more, easing access not only to downtown Lima but to the city's ring road and the north- and south-bound Panamerican Highway.
The test run —for private vehicles and trucks of less than 6 tons— is to last 30 days, open from 10am to 4pm, while work on access routes is completed.
The project began in 2010 under Castañeda's previous term as mayor, but had to be halted shortly after Mayor Susana Villaran  took office in 2011 when one of the tunnels caved in during excavation.   Excavation caused another collapse in 2013 and Villaran ordered new studies to be carried out before work resumed in 2014.