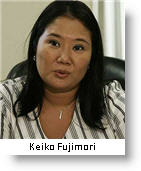 The US Embassy in Lima wrote in a diplomatic cable obtained by Wikileaks that it would expect Congresswoman Keiko Fujimori to pardon her father, ex-President Alberto Fujimori, if she were to win the 2011 presidential elections, daily La Republica reported.
Keiko Fujimori, who is leading the Fuerza 2011 party and is currently sitting in second place in opinion polls with about 20% support, has previously said she would pardon her father if elected.
"If I were president of the Republic my hand wouldn't shake to give amnesty (or pardon) to any person who I think is innocent," she said in June 2008, during her father's human rights trial that same year.
In April 2009, Alberto Fujimori was sentenced to 25 years imprisonment for human rights crimes committed during his administration (1990-2000).
Since launching her campaign, Keiko Fujimori has backtracked on her previous statements. In January, she said that in an eventual government she would not pardon her father, although she still contends he is innocent.
The diplomatic cable was one of three shown to Fujimori by US Ambassador Rose Likins.  The first said that Alberto Fujimori had accepted the verdict in his trial so as not to affect his daughter's presidential bid.
The second discussed Keiko's current support, due to her still popular father, but noted that Fuerza 2011 is still a new party and doesn't have a strong structure.
The third cable discusses her strengths and weaknesses as a candidate.