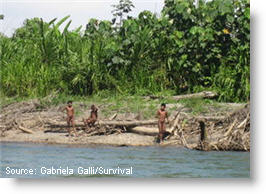 Peru's government has said they are taking measures to protect an uncontacted tribe located in the south-east Amazon rainforest, nonprofit organization Survival International said in a press release.
"Government authorities in Peru have responded to Survival's call to protect uncontacted Indians who have recently appeared on riverbanks near a popular tourist destination," the organization said Wednesday.
The Indians are believed to be from the Mashco-Piro tribe in the Manu area. Tourists who visit the nearby national park have recently been leaving clothes on the riverbanks to "entice the Indians out of the forest," Survival said.
The group has sent warnings to outsiders to stay out of their area. They recently hit a park ranger with an arrow with the tip removed as a warning sign, Survival said.
"Uncontacted Indians lack immunity to common diseases, which can be spread by items of clothing and particularly by contact with outsiders," Survival said.
Survival said that it sent requests to Sernanp, the government agency responsible for protected areas, to safeguard the tribe.
"This week Sernanp wrote to Survival to report on measures taken to protect the tribe, including vaccinating the local population against influenza and alerting local health posts of a possible epidemic," Survival said.
It added: "The river area where the Indians have been appearing has also been declared a restricted zone."
The government says it is unclear why the tribe has appeared in the area, although it did not rule out that illegal logging had an impact.
In 2007, a small group of Mashco-Piro Indians were seen from the air on the Brazilian side of the border. It was concluded that they had been moving east to avoid loggers, who remain unchecked in Peru's remote eastern region.