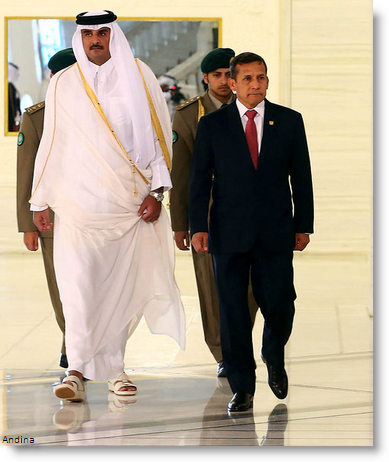 President Ollanta Humala was in Doha this Thursday, on the final stop of his visit to the Middle East, to meet with the Emir of Qatar, Sheik Tamim bin Hamad Al-Thani, and the CEO of the Qatar Investment Authority, Ahmad Mohamed Al- Sayed.
Meetings also included talks with the ministers of Foreign Relations and of Education, the latter to seek support for the Peruvian government's scholarship program for higher education and research and development in science and technology.  Humala also visited the Qatar Foundation for Science and Technology and Community Development.
On Tuesday, President Humala made the first official visit by a Peruvian head of state to Palestine, as part of his trip through the Middle East.
In a meeting with Palestinian President Mahmud Abas in the city of Ramala President Humala said that Peru is interested in strengthening ties with Palestine.
"It is the first visit by a Peruvian head of state to Ramala and it is in recognition of an independent and sovereign state," Humala said in comments reported by Peruvian daily El Comercio.
In 2011, Peru joined a number of other Latin American nations in officially recognizing the state of Palestine.
Palestine's Abas, who is also chairman of the Palestine Liberation Organization, said he is confident in strengthening ties with Peru and thanked the Andean country for recognizing Palestine at the United Nations.
"What Palestine wants is a peaceful solution for the region through an independent and sovereign Palestine," he said. Abas added that "international legitimacy" of Palestine is required in order to reach a peace deal with Israel.
In addition to meeting with Abas, the Peruvian president paid homage in a ceremony at the tomb of former Palestinian leader Yasser Arafat, who died in 2004.
President Humala's trip to the Middle East is aimed at strengthening ties with the region. In 2012, Lima hosted the Summit of South American and Arab Countries, which brought together political and business leaders from both regions.
Prior to his visit to Palestine, Humala also spent time in Israel where he met with President Shimon Peres. During that meeting, Peres expressed interest in strenghtening ties between both countries, a sentiment echoed by Humala, who also emphasized cooperation particularly in the use of technology.
"I hope that the relationship that Israel and Peru have today is strengthened even more so with this visit and that we can find new opportunities together and share a vision of development," Humala said.
Peru has become the world's top producer of asparagus thanks to Israeli technology that has helped turn stretches of its north and south desert coast into rich agricultural land.