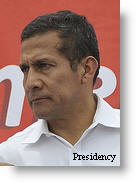 President Ollanta Humala's comments that the government's latest political scandal is due to corrupt police officers has ruffled feathers in the force, which lost a number of high-ranking officials last week.
Revelations that police squads were guarding the house during the past 18 months of an associate of jailed former spy chief Vladimiro Montesinos led to a political scandal that resulted in the resignation of Wilfredo Pedraza as Interior minister. Pedraza was the fourth Interior minister to leave the post since Humala took office in July 2011.
Before he resigned, Pedraza fired six high-ranking police officers who headed the key Lima Region, Special Forces, the Tactical Unit, Emergency Division, and the bomb deactivation squad, Udex.
Humala and the new Interior minister, Walter Alban, have said they will further investigate who ordered the police patrol and that several other police officers could be fired. Humala denied there were shadowy, parallel power structures in the police, and instead said it was due to some bad apples in the department.
The National Police haven't taken lightly to having all of the blame for the incident placed on them. The former head of the national police at the time that the order was given has said that the request to protect that house was given by the current commander-in-chief of the Armed Forces, Admiral Jose Cueto. Cueto has denied making the request and says the claims are lies.
According to newspaper Peru.21, the current head of the national police, Jorge Flores, and other high-ranking officials had presented their resignations to Humala, who is a former military officer, after his interview blaming the police for the scandal. A spokesman for the police force denied that Flores would resign.
Security analyst and former deputy Interior minister Carlos Basombrio called Humala's handling of the scandal as a "terrible way" to shift blame to the police for a political crisis.
"This doesn't seem like a case of corruption at all," he said. "But rather a case of police obeying orders that came from above."